So things have gone sideways and SHTF and now you're bugging in, or maybe displaced and have to choose another spot to live. Maybe there are gangs or militia pushing combat in the area. Here's some things you can do in your home is circumstance rates it needed. I'd like to point out first that building up defensive positions and some of the concepts poointed out here are by no means the complete picture of how to conduct conventional urban warfare. The scope of this posts will not cover that. I may cover, in another post, movement in urban hostile environments, but not here with this.
Understand that the notions put here are likely to be for extreme circumstances. Knowing how to deal with something is great. Also know there are some things you can do, now, to harden your position with out going to the extremes in this post, making it so that if/when you DO have to go to extremes, it will merely add to your already crafted defenses.
I want to say that American buildings are weak. They aren't built for solid outer structure, they are build cheaply and for speed and convenience. Some places are made from brick or logs, and these are best. But most are not. They have siding, plywood, and wood studs. The sheet rock inside is easy to shoot through. Windows are large. A molotov cocktail will eliminate most houses and issues completely, in other words. So you have to take these things in to consideration. The illustrations I post here (taken from urban combat FM 90-10-1) are houses in europe, it looks like. But they are applicable to any urban environment.
OK, so first of all. If you're going to shoot from a window, STAND BACK! Don't make yourself a target. If you stand in a door way or window and expose yourself, you are framed in and make an easy target.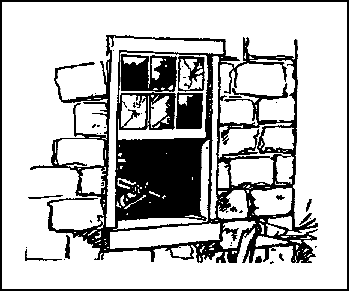 Proper way to shoot from a window
Firing from the roof is another good spot.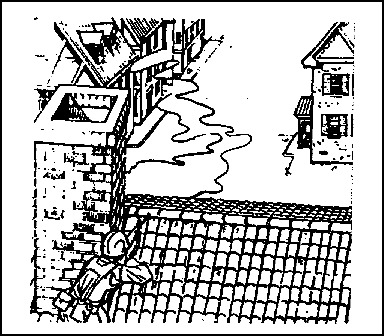 Stay low and place the bulk of you on the back side of the crest of the peak. Use things like chimneys as additional cover.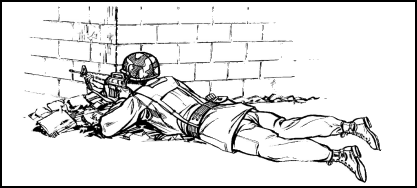 Shooting around corners: Stay low and expose as little of yourself as possible. Get used to shooting with both sides of your body for this.
Center Mass is the only place you need to target for shooting.
All of the above is do able with out building anything up or modifying anything. Now we will go into more extreme measures...
Urban Combat is ugly business. ALL combat is ugly business, but Urban Combat is very up close and personal and causes a hell of a lot of damage to a city/town. Just understand that fact now. If you're going to live in an urban hostile environment, your house will end up with a few bullet holes likely. HOWEVER, also understand that there are some areas that are generally more likely to have a lot of action than others. Main roadways, for example, is the case here. Everyone uses them, and so naturally when a fight happens, it will be along these main routes. Someone controlling these routes may control logistics of the city. Shopping Districts.... If you control commerce, you control the city. Ghetto areas... Jus the way it is, and likely will be the most hostile of places to be.
So in these areas, what can you do? Well, build them up and modify things to your advantage....
If you wish to control an area (a neighborhood for example), you need to do what's needed to build it up and modify it. First would be fences... Make a hole in fences so you can quickly, unseen, move between houses. After this, you can do the same inside of buildings, knocking holes in walls. It's easier and faster to move in a straight line to the other side of the house han weave through doors. This makes moving men and materials faster, and response to a threat faster. You can also knock holes in the floor and drop a ladder between the floors, and can do this all the way through to the roof if you need.
Example of a group effort to defend a home. Notice the loop holes (small holes to shoot out of) used to make this more effective....
You can knock out loop holes along the floow and outer wall to shoot from. You can also fortify windows to shoot from and put up screen/chicken wire to keep things from being thrown in through the wondows. Use whatever materials you can to do this, but sandbags work wonderfully. Fortify loop holes too. You can even use under your house for this.... Dig down in your crawl space and set up near your ventilation spots in the foundation. You can fortify these as well. Cutting a hole in the floor where these are at is good to do to get there quickly.
Example of fortified windows
You can shut down stairways by making them very nasty: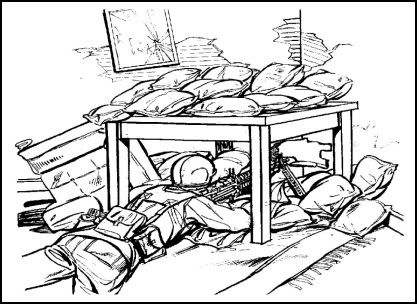 You can use jersey barriers and barbed wire, and other debris to control street access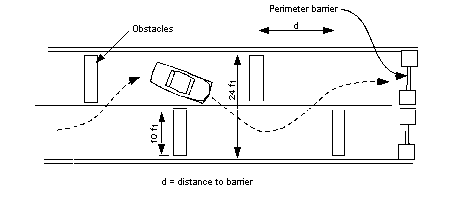 You can create alternate exits and entrances as well: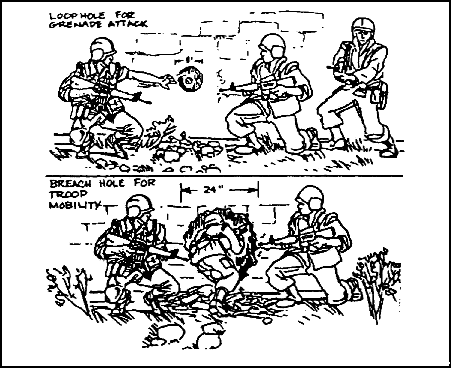 Basically, learn to use your environment. Pileing junk can limit access to spots as well. Dstroying some buildings because it makes vehicle access impossible with the rubble is better than having someone have quick approach to your position. Might be a good idea to get a sewer map as well. Never know when you'll need to use underground to move. You can also dig tunnels between houses and under streets to move unseen.
Many may say that if things get this bad, they will just leave the city. That's fine if you have some place to go, but you'll be leaving your preps behind, likely, unless you hotwire a U Haul. And getting on the move with a big ole U Haul is a sure fire way to get noticed quickly!
At the on set of hostilities, you could very well move out and take some ground and work your way back from there with your defenses. Set up firing positions and ways back toward your neighborhood, with the most intense and extensive defenses being in your neighborhood, or around it. This might mean setting up positions in abandoned houses and knock holes through the back of them to haul butt to the next position back. This way is someone is going to try to take things over, they will have to WORK for it. Don't make it easy on them!!
Not the greatest post, here, but you get the basic idea. Learn to use your environment, whatever it is. This is one reason why I advocate urban exploration. Learn the little nooks and crannies in your city, figure out places you may fare better at if SHTF, find little spots good for caching. Find ways around dangerous places that you can go unseen. The more you know of your area, the better you will do. These nooks and crannies can also be turned into alternative markets and such, as opposed to regular stores. You may find for example, a bartering market in a warehouse. You may find an old train tunnel is a better spot to move to. You will probably find that moving in tunnels during the daylight is better than being shot at!